ActiveStor Hybrid Storage
No-Compromise Hybrid Scale-Out NAS Storage
The future-ready Panasas ActiveStor Hybrid is a parallel scale-out NAS storage appliance that contains a mix of director and storage modules and blends HDD and SSD.
All user data and metadata in an ActiveStor Hybrid solution is held on ActiveStor Hybrid nodes running a component of Panasas PanFS called the Object Storage Device File System (OSDFS).
OSDFS implements advanced caching capabilities with intelligent data placement on the available SSD and HDD options in the ActiveStor Hybrid.  The combination of OSDFS and ActiveStor Hybrid is optimized for small-file and large-file performance and delivers consistently high-mixed workload throughput at a low price/performance ratio.
---
Easy to Manage, Always Reliable
With the broadest and most flexible range of configuration options we've ever offered, ActiveStor Hybrid has the performance and flexibility you'll need to focus on the world's most pressing problems.
INTEGRATION AND CAPACITY
ActiveStor Hybrid seamlessly integrates with your commercial, high-performance research and commercial technical applications. It also increases performance and capacity by the same factor, with nearly perfect linear scaling.
MANAGEMENT
The solution is so easy to manage that  a customer grew their realm to 20PB in one system while still allocating only a portion of a single storage administrator's time to manage it.
AVAILABILITY AND  RELIABILITY
ActiveStor Hybrid improves your data reliability and availability as the realm expands, and reduces your administrative overhead.
---
Superior Workload Performance
ActiveStor Hybrid models combine high-density flash drives and high-capacity helium-based hard drives for superior unstructured sequential-file and mixed-workload performance with rapid access to large and small files alike.
Every ActiveStor Hybrid enclosure accommodates  11 blades. Optimized for unique workflows, the solution's configuration options range from 11 storage blades to 3 director blades and 8 storage blades. Director blades orchestrate file system activity, and storage blades store all file system data and handle 100 percent of data traffic.
---
ASH-100
ASH-100 is based on a modern Intel SoC CPU foundation and delivers lower power and heat dissipation. You can start small and linearly scale capacity beyond 57PB.
Panasas PanFS Parallel File System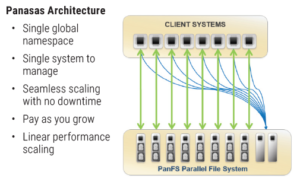 The Panasas® PanFS® operating environment for the Panasas ActiveStor®architecture combines a parallel file system, volume manager, and scalable RAID engine into a single integrated platform. Offering unprecedented speed, the PanFS platform avoids the bottlenecks associated with traditional RAID.
For more information on the PanFS operating environment, download the Panasas Performance Scale-out NAS Architectural Overview white paper.
Panasas DirectFlow Protocol for Fast Parallel I/O
The Panasas® DirectFlow® proprietary protocol runs inside each compute client and establishes a parallel input/output (I/O) relationship from the client to the Panasas PanFS® storage operating environment for file read/write. This structure creates higher performance than industry-standard protocols such as Network File System (NFS) and Server Message Block (SMB), avoiding the load-balancing and congestion side effects of these protocols when addressing clustered file systems.